Skincare to keep you looking and feeling great!
When you are looking to make some skincare at home, then try this skin scrumptious DIY Oatmeal Face Mask. It uses ingredients most people have in their kitchen and it's quick to make, and it's hands down one of my favourite masks!
My most favourite time to use this mask is when I have a home day retreat!
Why use a DIY mask?
When we cleanse our skin, the cleanser is only left on the skin for less than one minute and then gets washed down the drain. That is why moisturising is essential. But a fun way to increase the benefits of skincare, is through a mask.
Masks can have tremendous benefits with results that show up straight away and also make what ever else you put on your skin afterwards penetrate easier making them more effective. Face masks work by driving ingredients closer and deeper into the skin, infusing your pores and allowing the skin to soak up more yummy goodness.
When making your own masks from ingredients in your kitchen, you avoid using some more "exotic" ingredients like snail slime (yuk) and you also avoid all the artificial dyes, additives, preservatives and colourants. Very often these ingredients can cause or aggravate skin sensitivities.
Before using a face mask, be sure to wash your face with a gentle cleanser and warm water to remove any makeup, dirt or residue. Using warm water allows the pores to stay open and the ingredients to seep in better.
Leave your mask on for approximately 20 minutes and then rinse off using warm water. Once my skin is all clear, I like to splash my face with cold water to help close my pores, before applying my moisturiser.
If you are going to be using a vegetable based oil serum after your mask, you don't have to worry about splashing on cold water.
I like to use a base of oatmeal, which has been used for thousands of years to gently cleanse, exfoliate, heal, and moisturise your skin. It's safe for all skin types and is excellent at soothing sensitive skin.
I like to use essential oils when I make my own skincare. They have so many benefits, not just for your skin, but your overall sense of wellness.
The 3 essential oils I would recommend for this mask are listed below the recipe.
Recipe: DIY Oatmeal Face Mask
Ingredients
¼ cup old fashioned rolled oats
3-5 drops essential oils
Jojoba, sweet almond or coconut oil
2 tbsp plain greek yogurt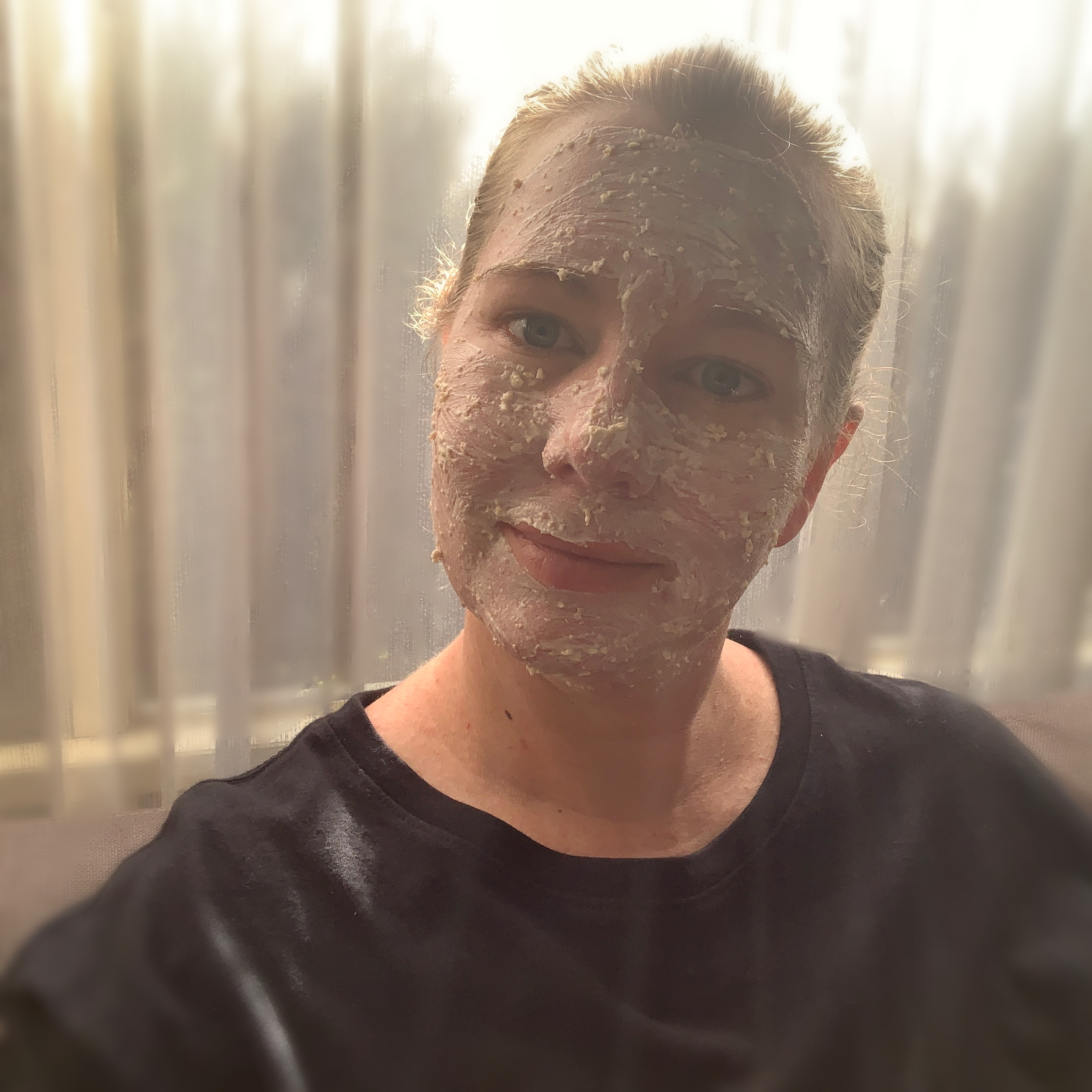 Directions
Grind the oats in a food processor until finely ground. Store the powder in a sealed glass jar until ready to use.
To Use
Combine 1 tbsp of oil (if using coconut oil make sure it is runny in consistency, not solid) and 3-5 drops of your chosen essential oil in a bowl and mix well. Add 2 tbsp of the powder to the bowl and 2 tbsp of plain greek Yogurt. Mix well to create a thick, spreadable paste. Massage the paste into your face using gentle, circular motions. Leave on the skin for 15-25 minutes, then rinse with lukewarm water.
Essential Oils
As this mask is so suitable for calming the skin, I like to pair it with calming and relaxing essential oils.
I chose to use Stress Away by Young living. With calming and refreshing notes of Lime, Vanilla, Lavender, and more, not only is this good for your skin, but when you also catch the citrus-sweet scent, you can't help but stop, take a deep breath, and relax—even when surrounded by unfolded laundry, a mile long to-do list, and a noisy dog who's feeling a bit bored and doesn't want to stop barking 🐶
Chamomile Essential Oils is very often used in skincare and is very calming. Energetically it resonates, balances and helps clear the 5th or throat chakra.
Balance within the throat chakra creates effective communication, spiritual drive, goal obtainment, and helps you to express yourself – all great qualities we can all benefit from.
Lavender Essential Oil is another oil used extensively in skincare. It's great at helping to reduce redness, blotchy patches and may even help with acne scarring. Emotionally lavender is very calming and it helps to increase your vibrational level.
Enjoy xx